THE MED CULTURE LEGACY CONTINUES...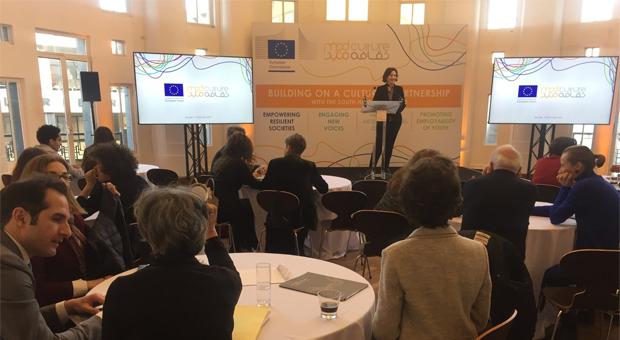 Download the Med Culture's final publication (available in English, French and Arabic).
Building on a Cultural Partnership with the South Neighbourhood.
February 13, on an exceptionally sunny day in Brussels, the Med Culture team concluded its activities at the BOZAR in the presence of Michael Köhler, DG NEAR's Director of the Neighbourhood South, Henrike Trautmann, Head of Regional Programmes Neighbourhood South unit, Heads of related units and sectors from DG EAC, DEVCO and European institutions, cultural attaches from representations of Egypt, Jordan and Morocco to the EU, experts in the cultural sector as well as cultural operators who have benefitted from the Med Culture programme.
"We've been Med Cultured!" was the moto of this event.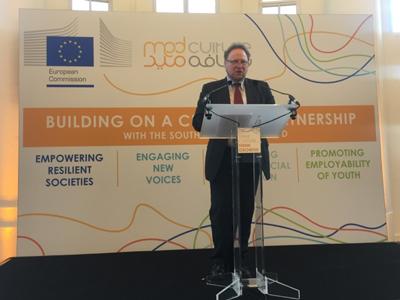 In his opening speech, Michael Köhler, DG NEAR's Director of the Neighbourhood South, stated: "Culture to me goes intimately with the notion of pluralism, because we live in a time in which we are vulnerable to stereotypes, we are afraid of others, of other societies and cultures, of an artificial truth that is not the reality, and rather than recognising diversity and the challenge that we truly exist with the other, rather than confronting the variety of pluralism of others, we protect ourselves and build walls, which is against the reality and against our nature"
Being Med Cultured means to confront diversity and pluralism in a positive way.
Köhler confirmed that EU's investment in culture means not only investment in civilisations, but also in the mutual understanding across the Mediterranean.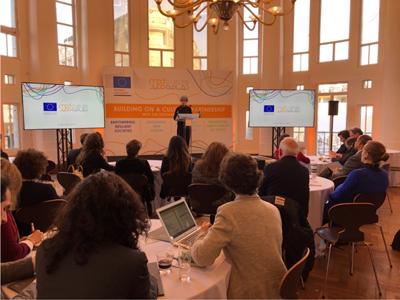 Naima Lahbil, cultural consultant from Morocco and keynote speaker, presented through facts, figures and case studies, her perspective on how to advocate for culture in its economic and social dimension (available online).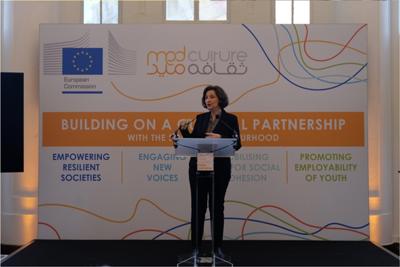 Christiane Dabdoub Nasser, Med Culture's Team Leader, presented the richness of the cultural sector in the Mediterranean region and the challenges it continues to face.  Cultural actors working in Morocco, Palestine and Tunisia shared their Med Culture experience with the audience, underlining what it has meant to them personally and professionally.
A series of country infographics summarising the overview of the Culture sector in each country (updated in 2018) is available online.
To respond to the challenges of the region, the Med Culture Technical Assistance team chose to address needs-based priority themes such as "Resilience and culture", "Cultural entrepreneurship and employability", "Advocacy for culture", "Partnerships and collaborative work", "Professional development", "Policy support and development",
through thematic workshops, training of trainers (ToT), regional conferences as well as national focus groups.  
A summary of the activities relevant to each country is also available online in the country factsheets.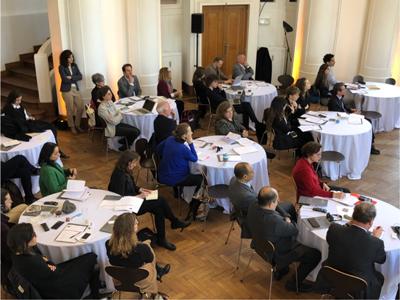 During the programme's 5 years of operation, the Med Culture team developed a consultative, participative, multi-faceted and inclusive approach, which was both innovative and process oriented. This approach was built on principles of 'Adult Learning'.
Hear what the participants had to say about their own learning experiences – watch the video!
Furthermore, the programme developed several thematic studies covering "Employability in the cultural and creative sectors in Arab Mediterranean countries", "Higher education and training in cultural management and cultural policies", "The social and economic impact of culture-the FES festival for world sacred music", "The status of higher education & VET", "
Skills, competences and needs - working in the cultural field in the Arab region".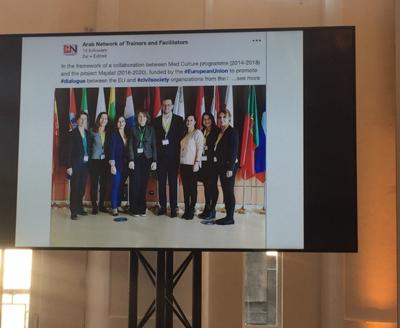 Also as a result of the programme, the participants of the ToT created independently the Arab Network for Trainers and Facilitators (ANTF)  which is a regional network grouping Arab facilitators and trainers in the field of culture who have been trained by Med Culture. The aim of this group is to further develop regional and international partnerships, improve the capacities and skills of its members, provide relevant studies and researches and most importantly create opportunities to contribute to national and international events as trainers and facilitators from the Arab region.
Additionally the people who have contributed and participated in Med Culture activities created independently an active Facebook group "Med Culture Network", which they will continue to develop and enrich.
Med Culture was a European programme which aimed to promote culture as a driver for human, social and economic development in South Mediterranean countries.
The lived experience of the programme reflects much more than that. With us all – Team members, participants, expert trainers, supporters and wider beneficiaries – being 'Med Cultured' has meant embedding a particular way of doing and of thinking, and a way to go forward. The rich community of diverse people who have taken part in our five-year journey will continue the legacy of Med Culture: through enriching partnerships, enhanced skills, widened scope of opportunities, a keener awareness of the value of their work, and the growing network we have built together. Today, we pass the torch on to them – the real activists behind this programme – and we wish them all the best for a long, flourishing, and indeed challenging journey ahead.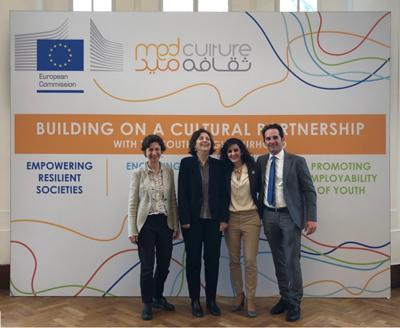 THE MED CULTURE LEGACY CONTINUES...
محتوى ذات الصلة
تم إعلان فوز محافظة الإسكندرية رسمياً باستضافة مؤتمر المجلس الدولي للمتاحف عام 2022 لأول مرة، بعد منافسة مع مدينتي براغ وأوسلو. جاء اختيار الاسكندرية بعد التصويت الذي أجراه المجلس التنفيذي...
تعلن مؤسسة آنا ليند عن الدعوة للمشاركة في منتدى آنا ليند الأورو-متوسطي لعام 2016 والذي سيعقد في فاليتا، مالطا، 24 و25 أكتوبر 2016. الدعوة للمشاركة موجهة إلى ممثلي منظمات المجتمع المدني...
الموعد النّهائي: 18 تشرين الأوّل/أكتوبر 2018 لقد أطلق مشروع MedFilm4all المموّل من قبل الاتّحاد الأوروبّي، دعوته الثّانية لتقديم مقترحات مشاريع وسوف يدعم مبادرات محلّيّة تشمل سبعة من بلدان...