OVERCOMING BARRIERS FOR GREATER CULTURAL MOBILITY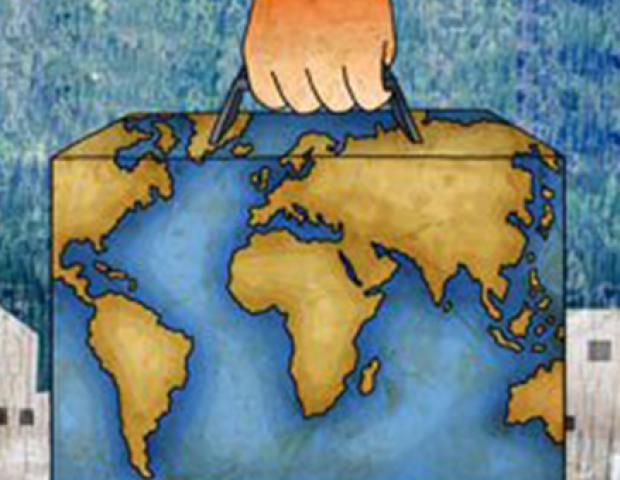 In order to showcase their work, make a name for themselves abroad or continue learning, artists from Southern Mediterranean countries are faced with many obstacles, the first of which involves obtaining a visa.
In 2016, Palestinian visual artist Majdal Nateel was selected for residency in Greece. A graduate of the School of Fine Arts at the University of Al Aqsa, and now based in Gaza, this artist was certain to approach the project with earnestness and sincerity. The residence, offered by the Roberto Cimetta Fund, is financed by a European fund and aims to "promote culture and mobility as essential elements in the European Union's external relations." However, in the end Nateel's visa was not granted.
The first step towards artists' mobility is obtaining a visa, the invaluable key for travellers, and this often requires immense patience. It is a long process and may very well end in a refusal. Especially since, given the security context of recent years, visa regulations have hindered the initiatives put in place to bridge the gap between countries from the North and South.
The first step towards artists' mobility is obtaining a visa, the invaluable key for travellers, and this often requires immense patience. It is a long process and may very well end in a refusal. Especially since, given the security context of recent years, visa regulations have hindered the initiatives put in place to bridge the gap between countries from the North and South.
As a resident of the Gaza Strip, Majdal Nateel must first obtain a letter of invitation from a recognised cultural institution or gallery in the country she wishes to visit. This invitation is for the embassy of the inviting country, which is located in Jerusalem. Before she can go to the meeting, she must first obtain permission from the Israeli authorities to cross the border between Gaza and Israel, which can take up to forty days. "If I'm lucky", says Madjal, "and I finally get the visa, I have to make a similar request in Jordan in order to cross the border and board a plane."
The other option is to pass through the Rafah border post to Egypt, but this too requires patience. "The last time I took this passage was in 2013 for a flight to Cairo, Rome. Once permission is granted to leave the Gaza Strip, you have to cross the border post which is only open for a few days a year for security reasons."
LONG AND UNCERTAIN PROCEDURES
An obstacle course that Ghassan el Haj knows well. This graduate in Political Science works for the Fekra Arts Institute in Gaza. During a programme coordinated by MedCulture, he was authorised to cross the Erez Crossing on the same day as his scheduled flight to Casablanca where the workshop was to take place. "The Israeli authorities called me at 9 am to tell me that my request was accepted. Impossible to reach Amman airport on time. But thanks to the organisers I was able to change my flight to the following day and finally make it to Morocco," he explains.
According to him, besides the long wait following every request, the most frustrating part is the absence of objective criteria for granting a visa, "including from the Jordanian side. No-one knows why their requests are rejected. Sometimes it works, sometimes it doesn't," he sighs.
In Libya, since the start of 2017, all 18-45 year-old nationals must be accompanied to be granted permission to leave the country. This is supposed to prevent young Libyans from joining the ranks of the Islamic State organisation. And to make things even more complicated for Libyan artists, most diplomatic missions have been closed in their country. They must therefore travel to Tunis to go through the necessary procedures, experiencing the long queues at the Ras Jedir border crossing, for a total journey of 750 kilometres between the Tunisian capital and Tripoli.
It is impossible to paint a unique picture of the difficulties faced by artists from Southern Mediterranean countries. For Omar Abi Azar, a member of the Lebanese theater company Zoukak, mobility is no longer a problem: "We have been around for ten years, and most of our members have a Schengen visa. But for Syrian artists that's another issue." Projects were often abandoned due to lack of time for filing visa applications.
Omar Abi Azar gives a bitter account of the current situation in the Arab cultural world as it faces this dilemma: "Financial and even intellectual dependence makes Western stages vital to artists in the Arab world. Many organisations in Europe have worked, and are still working, on the mobility issue, but this does not prevent the post-colonial condescension which governs the relationship and which translates into the need for a visa."
Whether they want to take part in a workshop, showcase their work or expand their market, artists from the Southern Mediterranean region undergo long, costly and unpredictable procedures, without necessarily having access to the required information to learn about administrative demands. According to the Visa Restrictions Index[i] of 2015-2017, the free movement situation is particularly critical for nationals of countries at war (Palestine, Sudan, Eritrea, Yemen, Libya, Somalia, Syria, Pakistan, Iraq and Afghanistan), as well as for nationals of countries experiencing political and economic difficulties, who are struggling to be admitted into foreign countries.
Paradoxically, according to Marie Le Sourd, secretary-general of the network On the Move and an expert in artistic and cultural mobility issues, regional exchanges seem to be even more complicated. "It's sometimes easier for artists in Southern Mediterranean countries to go to Berlin than to Tunis. Exchanges within the region are also hampered by administrative issues, visas and internal transport costs[ii]," she explains. "In fact, there is often an absence of opportunities for exchanges at a regional level for artists, such as Moroccans, with their Jordanian or Lebanese counterparts."
Since 2015 Morocco has required every Syrian or Libyan national entering Moroccan territory to obtain a visa. In 2016, Turkey also reinstated the visa requirement for Syrian nationals. The play Alors que je t'attendais (While I Waited for You), written by Syrian playwright Mohammad Al Attar and directed by Omar Abusaada, brings together comedians from across the region. The troop, which had been rehearsing in Turkey, had to look for another country to meet in. They also had to negotiate, and not without difficulty, for residence permits for the artists from Jordan, Egypt, Lebanon and Syria.
CREATIVE DIFFICULTIES
Faced with this enduring and renewed challenge, artists sometimes take a different stance and feed their work with these obstacles. This is the case with Palestinian artist and photographer Emily Jacir, who punctuates her creations with the theme of mobility. In her series Sexy Semite, produced between 2000 and 2002, she placed small ads to invite Israelis to marry Palestinians and thus give them the possibility to travel. In her work Where We Come From, she uses the power of her US passport to break through boundaries, and convey messages from exiled Palestinians to the occupied territories.
Similarly, Palestinian photographer and videographer Khaled Jarrar, who has repeatedly been prevented from travelling abroad to present his work, calls into question the situation at country borders, in particular through his project At the Checkpoint. If mobility is constrained, creation and imagination are, after all, two of the ways in which these barriers can be overcome.  
---
[i] https://henleyglobal.com/files/download/hvri/HP_Visa_Restrictions_Index_170301.pdf
[ii] http://on-the-move.org/about/ourownnews/article/15173/artists-mobility-and-visas-a-step-forward/