Entrepreneuriat culturel : un modèle d'entreprise sur mesure
Tunis, le 16 décembre 2016
Le programme régional  Med Culture, financé par l'Union européenne, organise à Tunis, deux activités régionales de renforcement de capacités avec la participation des acteurs culturels de 8 pays du sud de la Méditerranée, ainsi qu'une deuxième réunion du groupe de travail national  entre le 17 et 22 décembre 2016, à la Maison de l'image et l'Hôtel Novotel.
La première activité (17-19 déc.) est un atelier régional fondé sur les échanges entre pairs, sur le thème de l'entreprenariat culturel. Son objectif est d'explorer les spécificités de l'entrepreneuriat dans le domaine culturel, de procurer aux participants les ressources nécessaires pour repenser ou améliorer leurs méthodes de travail,  et de les encourager à créer leur propre modèle d'entreprise, conçu sur mesure.
Ensuite, un deuxième atelier régional (19-21 déc.) sur le thème Réinventons nos partenariats aura également lieu à La Maison de l'image. Cet atelier examinera l'évaluation du processus de collaboration, et analysera différents modèles et pratiques promouvant les interactions entre différentes parties prenantes, y compris les opportunités de collaborer avec d'autres secteurs à des niveaux multiples.
Une 2ème réunion  du  groupe de travail national se déroulera le 22 décembre 2016 à l'Hôtel Novotel. Cette réunion donnera l'occasion à l'équipe de Med Culture de faire un bilan des activités effectuées jusqu'à ce jour et de présenter le plan d'action de l'année 2017, année de clôture du programme. Il s'agira aussi d'envisager les collaborations et passerelles qui pourraient être mises en place avec le programme bilatéral Union européenne-Tunisie. Ce groupe rassemble des opérateurs culturels venant d'horizons divers, provenant à la fois du secteur public et d'organisations de la société civile.
Med Culture est un programme régional de 4 ans (2014-2018) financé par l'Union européenne pour accompagner les pays partenaires du sud de la Méditerranée dans le développement et l'amélioration des politiques et des pratiques liées au secteur culturel. Pour plus d'information sur le programme Med Culture aller sur le site-web www.medculture.eu
Pour plus d'information sur les activités, contacter Suhair Muhye Al Deen, Chargée de Communication et Networking s.muhyealdeen@medculture.eu Cell. +39 33 56 061 293,
Note au rédacteur
Lien utiles : Activités Med Culture, Rapport Pays, Infographie- Tunisie, Etudes Thématiques  
Related Med Culture Activities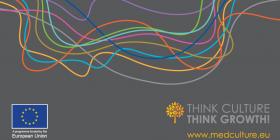 The first workshop on Reinventing Partnerships was organised in Amman, Jordan in July 2016 during which, participants addressed several issues relative to reinventing partnerships...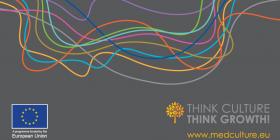 This first Peer-to-peer workshop on the theme of Entrepreneurship was designed based on the fact that the cultural and creative sectors are a major component of economic development and we...