THE MED CULTURE FORUM, Looking Back... Looking Forward
The European Union's regional programme, Med Culture organised on November 28 and 29, the Med Culture Forum, a platform that brought together more than 120 cultural operators and civil society actors from the European Union's Southern Mediterranean partner countries.
The Forum was also attended by representatives of EU institutions and other EU funded programmes, namely Irene MINGASSON, Head of the Regional Programmes Neighbourhood South unit at the Directorate-General for Neighbourhood and Enlargement Negotiations (DG NEAR), Diego MARANI, Senior Advisor on cultural policy at the European External Action Service; and Gonçalo Guedes, Programme Manager for Communication, Visibility and Culture at European Union Delegation in Jordan.
Representatives from Ministries from the region participated as well to the discussions of this forum, namely, Ahmad RASHED, Assistant Secretary-General, Ministry of Culture of Jordan; Samer SALAMEH, Deputy Minister, Ministry of Labour of Palestine; Fatima AIT MHAND, Director of International Cooperation at the Ministry of Culture of Morocco; Hanem BELARBI MAKNI and Ameur TARCHOUN from the Ministry of Higher Education and Scientific research in Tunisia.
The Med Culture Forum showcased the programme's results as a broader and more robust approach to address vital issues such as resilience and culture, combating radicalisation through dialogue, youth integration and employability and promotion of social cohesion. The event included sessions and workshops designed to address specific needs, challenges and opportunities related to the development of the culture sector at different levels within the region and explored ways to continue mobilising culture to promote further dialogue, respect for diversity and integration of youth in civil life in the South Med region. Concrete recommendations and action plans were developed and presented by the delegates to go forward.
Irene MINGASSON, Head of the Regional Programmes Neighbourhood South unit at the Directorate-General for Neighbourhood and Enlargement Negotiations (DG NEAR): "The European Union acknowledges the role of the civil society in the field of culture to promote resilience amongst communities for an open, pluralistic and stable society, building opportunities for youth. The European Union also appreciates and recognises the value of working in culture at the regional level which has its impacts at the national level. The cooperation between the European Union and its Neighbouring partner countries is invaluable to further dialogue, promote governance of the culture sector and engage in a joined up approach."
Diego MARANI, Senior Advisor on cultural policy at the European External Action Service: "Culture is an economic resource an opportunity for dialogue and a pillar of identity and cohesion of societies. In investing in culture, we consolidate citizenship, awareness and individual responsibility towards society.  Culture is also a powerful tool in the fight against radicalisation and extremism. This is the reason why the EEAS is investing in culture and fostering cultural relations between the EU and its partner countries. We want artists and cultural operators from different countries to have exchanges and work together in the cultural field."
Christiane Dabdoub Nasser, Med Culture Team Leader: "Med Culture programme has contributed to empowering cultural practitioners and more particularly the younger generation through learning new skills and new tools. It has focused on the cross cutting dimension of culture, and has dealt with a broad spectrum of themes, opening the horizon to innovative practices and challenging participants from the region to developing their critical thinking. In parallel, it has proposed assistance to national bodies to set policy strategies in the fields of culture and employment, at national level, with the long term objective to identify common solutions to common challenges in the Neighbourhood South region."
Adel Abdel Wahab, Theatre director at Hewar from Egypt: "The idea of the Med Culture programme is important to us as cultural practitioners, because it helps establish cooperation between various stakeholders in the culture sector, be it official bodies or independent organizations. We need to become complementary to each other in order to stimulate growth of the cultural scene and make it sustainable."
For further information, http://www.medculture.eu/action/regional-conferences/10445
or contact Hiba Aboulhosn +961 3 939472 or h.aboulhosn@medculture.eu
Related Med Culture Activities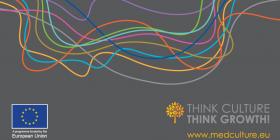 The objective of this regional Peer to Peer workshop was to set the basis for what will be a long-term process and define a methodology for a definition of an action plan that is workable...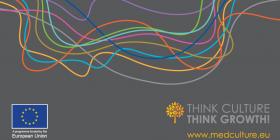 In the wake of the economic crisis, public resources for culture were often cut down or reduced; public and private resources need to be combined to increase budgets for artistic production...