70 CULTURAL ACTIVISTS FROM SOUTH MEDITERRANEAN COUNTRIES ENGAGE IN 3 WORKSHOPS ACROSS PALESTINE, TUNISIA AND JORDAN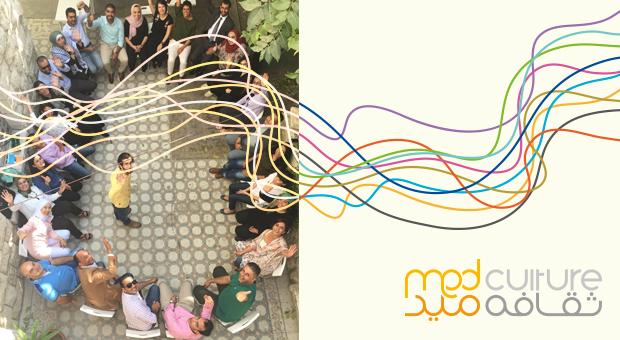 September and October 2018:
Three trainings organised by Med Culture, a regional programme funded by the European Union, engaged cultural operators and activists working in related fields of human rights, sustainable development, public policy, heritage, arts, training, facilitation and education, to support their professionalization, leadership and advocacy for culture within the South Mediterranean region.
The aim is to increase the pool of professional trainers and cultural activists in EU South Neighbourhood, Algeria, Egypt, Jordan, Lebanon, Libya, Morocco, Palestine, Syria and Tunisia to enhance their skills through acquiring new methodologies and tools.
"There was a lot of exchanges and networking amongst the participants, who represent a number of development sectors", confirmed Christiane Dabdoub Nasser, the Med Culture programme team leader. "A new understanding of the value of collaborative working and partnerships was instilled, which is all the more vital in a context were communities are geographically splintered."
The advanced 5-day training in Bethlehem which took place from September 24 to 28, aimed to empower the civil society through a leading and resilient culture sector. The methodology of the workshop focused on shifting the participants' thinking about cultural management and learning as a fruitful and effective experience. Hands-on and interactive activities addressed advanced project management and Training of Trainers through seven cross-cutting themes: self-awareness, communication, group dynamics, facilitation, leadership, decision-making and partnerships.
The second 3-day training in Tunis which took place from October 3 to 5, focused on professional development through coaching and facilitation. The workshop explored principles and practices of adult learning, collective negotiation, designing spaces of facilitation, initiation to graphic facilitation, and coaching principles and reflection. The workshop provided the participants with tools to promote themselves as trainers and facilitators on the employment market, thereby contributing to give more visibility to this professional niche, which is  increasingly in demand across the South Mediterranean region.
The third 4-day training in Amman which took place from October 15 to 18, supported civil society activists and trainers from the region in raising awareness on cultural heritage values for peace building and community cohesion and citizenship engagement. The workshop explored issues of diversity and identity, interpretation and representation, hidden stories and how they empower people to see the environment around them and the development of advocacy and awareness campaigns and their impact on their communities. Med Culture promotes heritage making and cultural development processes as a basis for promoting an empowered and resilient society and underlines the value of heritage in the development of a more robust and resilient community that strives for peace building and steers away from radicalization and extremist behavior.
The three regional workshops respond to an expressed need from Med Culture partners and beneficiaries and build on previous work accomplished through the programme.
Med Culture is a 5-year regional programme funded by the European Union to accompany partner countries in south of the Mediterranean in the development and improvement of cultural policies and practices related to the culture sector. For further information about Med Culture please visit the website www.medculture.eu
For further information or interviews requests,
please contact Hiba Aboulhosn - e-mail: h.aboulhosn@medculture.eu