Zoukak, a cultural laboratory for Lebanese theatre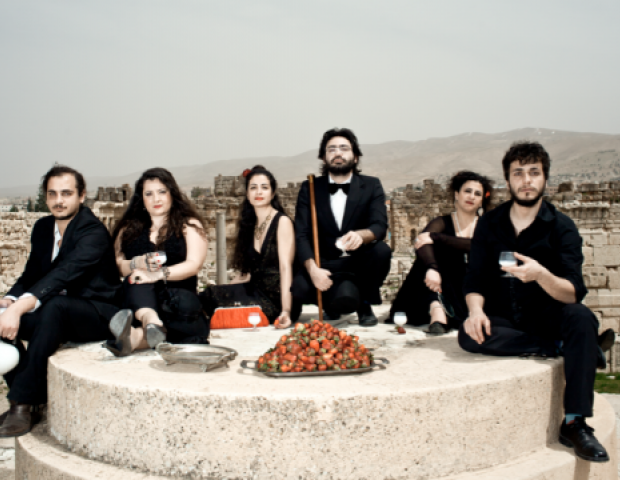 When Lamia Abi Azar visits the new premises of the company Zoukak in Beirut, she darts from room to room, describing what each one could become with barely concealed impatience. Everything is still in disorder, but there are numerous plans for this space. This lease is a culmination for the company after 11 years of existence and many financial and civic struggles for survival. "We want to turn this space into a convenient workplace for us and for the city, for artists and for people who need to have a place to work," states Zoukak's co-founder.
A few months ago, the group worked in a small apartment which they financed themselves. When the time came to move out, everyone lent a hand, as Zoukak is run without hierarchy. All the members are actors, but they are also involved in the management of the different projects and sites. The company, which describes itself as a laboratory, operates on a unique model, which the group has shaped since its formation in 2006. "We are convinced that theatre is group work, not solitary work," the young woman explains. "For the last 11 years we have created a Zoukak style, whether it be in terms of writing, contents or artistic discourse about our creations, while incorporating the variety of the training we offer in the arts."
"Theatre in Lebanon is facing a difficult reality today"
The company's plays are written solely in Arabic, a challenge in a country whose cultural offerings are often trilingual. "It's essential for us to speak in Arabic, because we are addressing everyone. We're not interested in making a show which part of the population would not have access to," says Lamia. In order to preserve this Zoukak style over time, and the creative freedom which accompanies it, the company members don't create their plays according to financing. Money, always on a just-in-time basis, is mainly found due to subsidies or paid parallel events, always under the Zoukak label. This duel role also defines the style of the troupe: psychosocial interventions, working alongside NGOs, workshops… Zoukak is multifaceted and present on all fronts, which allows its members to survive financially, despite the progressive loss of subsidies in Lebanese art.
Randa Sadaka, editor-in-chief of the cultural magazine Pictoram, paints a portrait of the Lebanese theatre scene: "Theatre in Lebanon is facing a difficult reality today; there is no funding, and no structure apart from the Lebanese University. Many theatres are closing their doors and the country is experiencing structural, financial and political instability." She does go on to add, "Despite all this, we are helping young playwrights and actors who want to bring Lebanon's theatrical sphere back to life." And amongst the positive examples of Lebanese theatre, she readily cites Zoukak, especially for its social role.
"We want to create a space for meetings and discussions between the company and the new generation"
For when Zoukak thinks 'group', its vision goes beyond the limits of its own troupe. Work is done collectively, with citizens indirectly involved in the projects. "Our artistic work is contaminated by our social work," Lamia announces from the outset. The audience is not merely a passive spectator; it's also a source of inspiration. Zoukak's latest project: around fifteen free shows for schools and universities. "We want to create a space for meetings and discussions between the company and the new generation. It's something we missed out on when we were young and it's part of our mission today," says Lamia. The group's creative or psychosocial work may include schoolchildren, prisoners, refugees, or any other marginalised population in Lebanon.
The company is inspired by these encounters for its future creations: "We share our questions in a practical way in the field and then we rework the expressive and creative content of the groups into our shows." And so, with its two-way work, Zoukak brings art to the citizens, who in turn bring ideas to its members. The company has also organised 'Zoukak festival', an event which embraces all of the cultural diversity in Lebanese society through artistic forms, from Armenian culture to Ethiopian culinary and social practices "which do not have a big enough place in Beirut's elitist cultural scene," declares Lamia. "The ideal thing would be to develop and put together these different cultural entities, which together are one, and thus reach a much wider audience."
"The cultural offerings in Lebanon remain concentrated in the capital"
Another strategy, essential according to the company's members for meeting the public in the most diverse possible way: leaving Beirut. The play "Perform Autopsy" on the Lebanon war has been shown in more than 78 locations across the country. "We do a lot of touring all over Lebanon, in all social and cultural contexts, as there are many," explains Lamia. Most of the cultural offerings in Lebanon remain concentrated in the capital, and Zoukak wants to reverse this movement and hopes to motivate the inhabitants of other towns and cities to come to see their creations when they are shown in Beirut. The theatre is not only a show, according to the members of Zoukak; it also plays an essential and global role socially. "We try to experience theatre more widely than in the little black box where our creations are performed," summarizes Lamia.
"Theatre is a space which allows me to practice my citizenship"
In addition, the company offers drama-therapy workshops, always with the desire to remain anchored in the social reality of Lebanon. These tools have been developed since Zoukak's creation in 2006, the year of the 33 day war between Israel and Lebanon. "Our choice of themes has always been in line with our civic needs," explains Lamia. "Lebanese theatre reflects the difficulties our society is currently going through. The theme of war is frequently addressed, and has cropped up more and more regularly since the Syrian conflict," adds Randa Sadaka. "Religion and the issue of belonging are also very much present, and all these themes are subjects which trouble citizens."
A people's theatre, in tune with major Lebanese civic themes… "As a theatre company, we believe that our political work is played out over the long term. We don't feel as though we have to act spontaneously," explains Lamia. The actress claims to experience citizenship through the theatre: "Today, as a citizen, my State gives me nothing – quite the contrary. Theatre is a space which allows me to practise my citizenship, since I don't have any other ways to practise it in my country. Theatre enables the creation of meeting places, and choosing theatre was a Political choice with a capital P, in the manner of the Greeks, in other words by necessity," reveals Lamia.
Although direct participation in citizens' movements isn't officially part of the association's mission, Zoukak shared one of its plays, which focuses on the theme of domestic violence, on 8th March a few years ago, which is International Women's Day. "There were 8,000 people and absolute silence, and we felt the necessity of theatre in civic life," she remembers with emotion.
Zoukak's experiments are numerous and continuous. The troupe is already working on its next creation and it's thinking big: it's the first big play that its members would like to perform outside of Beirut. Always aiming to change things, Lamia explains, "Before, in the provinces, we got used to places that weren't theatrical. Now we really want to perform in regional theatres."
Content produced in partnership with Cineuropa